It'd be awesome to hear from staff on an explanation on why we haven't implemented a valid parse/test mob in the game yet. With such a top heavy game, players are limited to very small dps upgrades, gear optimization, swaps, etc. and it's really shitty basing your gear on assumptions and what fomelo tells us.
If this is the first time staff is hearing of the idea, then that's fine too I suppose. Please help.
Even from a development standpoint, players are often asked to provide parses or back their theories up with actual numbers and we have no place to actually do this.
I could understand years ago when population was heavier and you could theoretically reverse engineer class mechanics through this if you were REALLLLY determined enough, but that's probably the only negative I'd ever see to adding this to the game.
Zmal sparring dummies are a start, but no where near the customization that we'd need to provide actual numbers.
These exist on live in the Arena already with scalability on many different metrics. Photo below from my test server.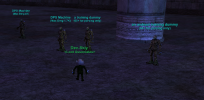 Some customization options that'd be amazing to have, but not limited to:
- Bane/Race type
- Level, AC, Spell AC, etc.
- Damage done, damage taken
- Resists